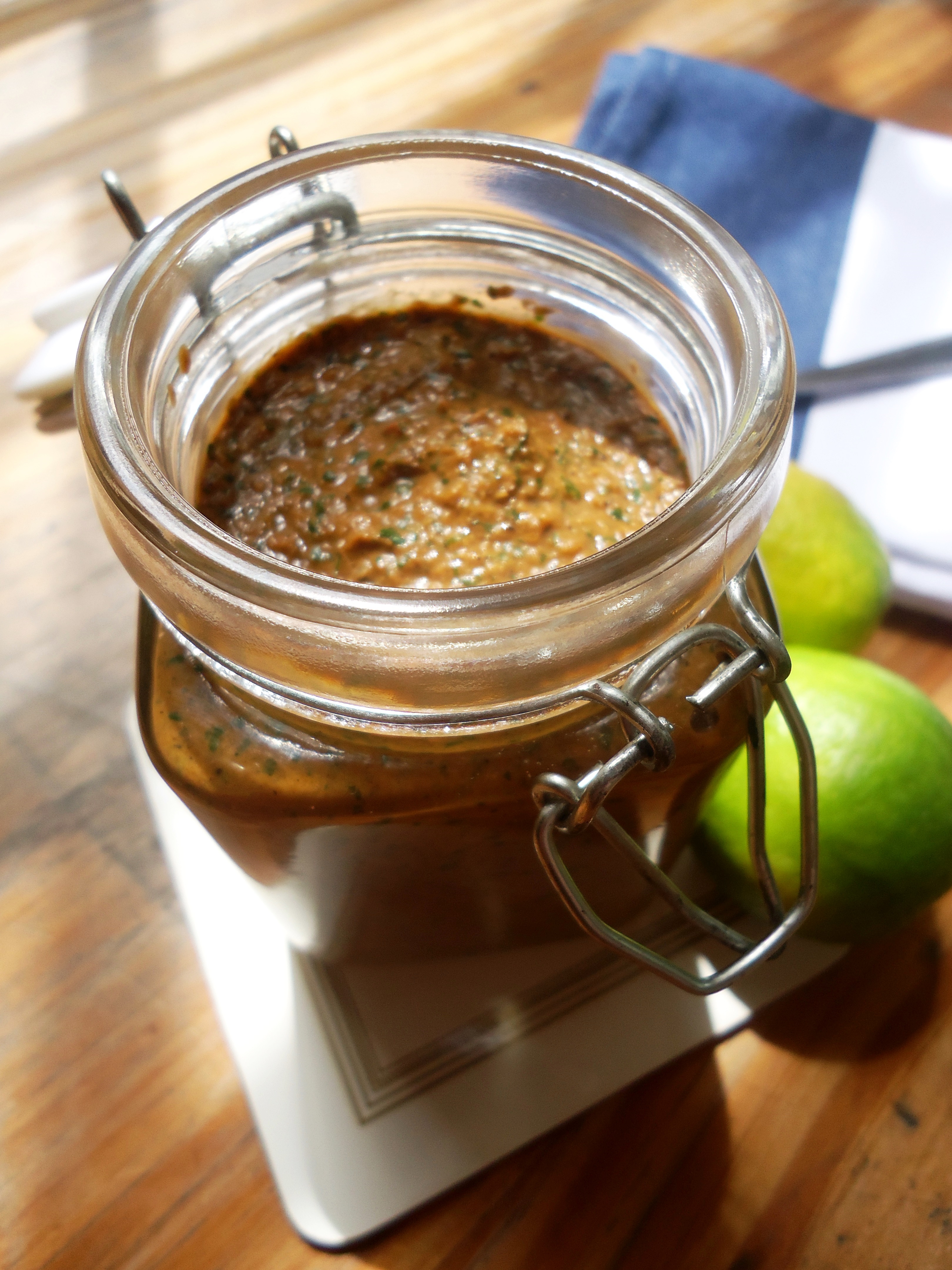 I have always loved making curries, from Swahili to Indian styles and everything in between. When I lived in London, it was so easy to buy ready-made curry pastes. I always preferred, however, to make mine from scratch, whatever the cuisine.
For this recipe, you may wonder why Thai-inspired instead of just Thai red curry paste? The chances of  making authentic Thai curry pastes is next to impossible unless you live in a major city where the required herbs and spices are grown or flown in.
In this recipe, instead of using galangal, kaffir limes and Thai shrimp paste traditionally used in this recipe, I use fresh ginger, regular limes and fish sauce. I buy the dried, long red chillies from shops in Zanaki Street in the Indian quarter of Dar es Salaam.
Finding lemongrass stalks is also a problem. Lemongrass leaves are used for making 'mchaichai' tea here so the bottom, whiter part of the stalks are often removed by market stalls. I solved this problem by growing lemongrass in my garden. Gardening is not my favourite pastime, but it is very convenient to cultivate lemongrass , coriander and basil at home. If I can import a kaffir lime tree for my garden then I will be halfway to sourcing authentic ingredients for Thai curry paste.
The best and most rewarding way to make this curry paste is by pounding all the ingredients by hand using a pestle and mortar. This method ensures all the fragrant oils from the spices, chillies, garlic and ginger are fully released. It is a lot of work, so alternatively one can pulse everything in a food processor. I have found the taste, however, somewhat diminished when using a food processor. It is ideal for making curry with beef, chicken, pulses or vegetable curries. For convenience, I make twice the amount of this recipe and freeze any unused paste within 2 weeks. Use within 3 months.
You will need:
1 ½ tbsp coriander seeds
1 ½ tbsp cumin seeds
1 tsp black peppercorns
4 dried long red chillies (not as hot as the small bird's eye or habanero types. 4 will give you medium to hot curry, 6 for hot and 8 for extra hot)
1 tbsp finely chopped lemongrass stalk
1 tbsp finely chopped lime rind
¼ cup chopped coriander leaves (cilantro)
½ tsp salt
¼ cup garlic cloves
¼ cup roughly chopped ginger
½ cup roughly chopped shallots (or red onions)
1 tbsp fish sauce (or soy sauce)
2 tbsp sunflower oil
What to do:
Keep your dry and wet ingredients separate.
In a dry pan, combine coriander seeds, cumin seeds and black peppercorns. Cook over moderate heat for 2 to 3 minutes. Place spices in a mortar and pound until they turn into powder. Empty them into a small bowl and set aside.
For the red long chillies, soak them in water for 15-20 minutes to soften them up and drain. Cut them into roughly 1 inch pieces then add them to the mortar along with ½ tsp salt. Pound until fine and the fragrant oils of the chillies are fully released.
Add the rest of the 'wet' ingredients: garlic, ginger, onions, lemongrass, lime rind, coriander leaves and start pounding away.
Pound for 15 minutes to produce a smooth, well mixed paste.
Add the dry spices, pound for 1 minute to mix them with the wet ingredients.
The final step is to mix sunflower oil and fish sauce(or soy sauce) into the paste.