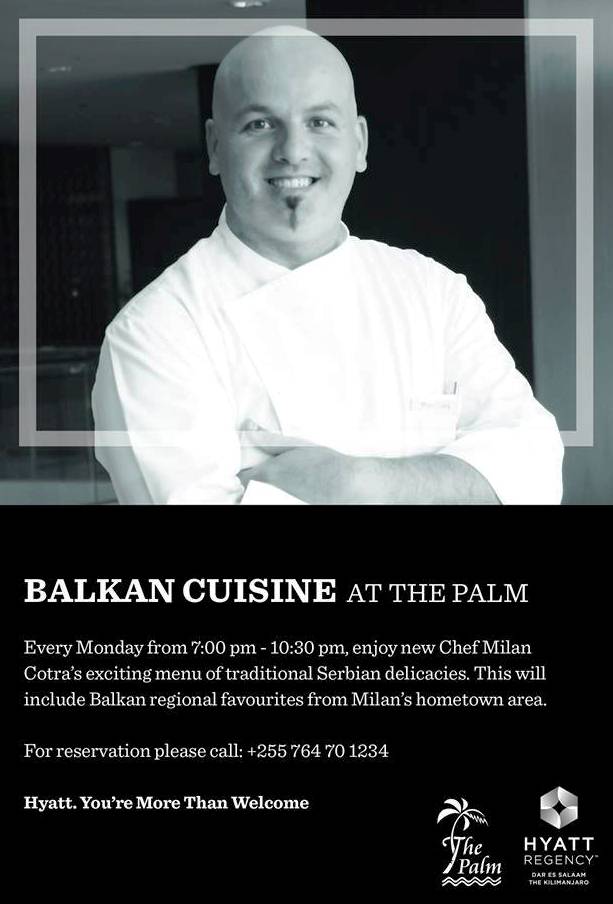 Serbian cuisine is described as 'Europe's Foodie Secret' by the website of the iconic Lonely Planet travel guides. The hidden treasures of Serbian gastronomy, however, are now revealed for diners in Dar at the Balkan Cuisine night every Monday at the Hyatt. The introduction of this intriguing and surprising cuisine to the popular Palm Restaurant theme evenings arises from the arrival of Chef Milan Cotra from the Balkan state of Serbia. Last week, the general manager Karl Marshall hosted a special dinner to showcase the culinary skills of this talented Chef who combines a deep knowledge of Balkan food, developed during his years at the celebrated Hyatt Hotel in Belgrade, with international exposure from working with the group in the cosmopolitan city of Toronto, Canada.
The four courses reflected the varied origins of Balkan food that includes Mediterranean, Turkish and  Austrian cooking traditions. The mini appetizers consisted of a delicious piece of salmon combined with cream cheese plus a 'Dalmatian' creation of Prosciutto ham, cream cheese and a black grape. Next came a first course of Sopska Salad of tomatoes, cucumbers, onion, peppers, feta cheese and parsley all finely diced then lightly dressed in vinaigrette dressing . This was served with grilled prawns and beetroot Carpaccio. Star of the show, however, was a delicious chicken liver pate, that was perfection in terms of both flavor and texture. This outstanding creation served with freshly baked bread was one of the many unexpected treats in the superbly planned menu that reflected the varied and extensive offerings from the Balkan theme night.
Next came the main course of 'Karadjordjeva snicla', lightly tenderized chicken combined with a cream cheese that was breaded and lightly fried. It was accompanied by Tavce Gravce (Balkan-style stewed beans), garlic mashed potatoes and Ajvar Sauce made from roasted red peppers.
Each course was elegantly presented and cleverly combined a cross-section of popular dishes from the Balkan nations. To finish, Chef Milan's guests were treated to a wonderfully rich chocolate and orange cake that was perfectly moist with the right amount of citrus. Balkan-style fine dining can be enjoyed every Monday at The Palm where diners can discover the secrets of this diverse European cuisine in a very sophisticated style.