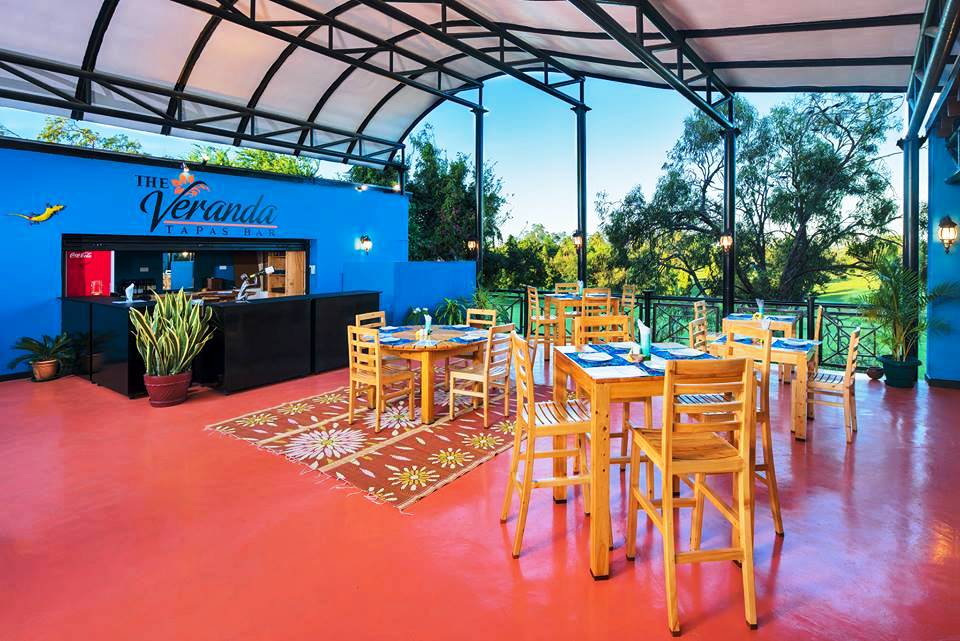 Set in a little oasis of tranquility overlooking Gymkhana Golf Club is one of Dar's hidden foodie havens. La Veranda was opened by Jabeen Amin and Shemane Janmohamed (mother and daughter)  in April 2015 as the city's 'first Tapas experience'. It has quickly established popularity among locals and visitors keen to experience this unique addition to the restaurant scene.(*this restaurant has now relocated)
The traditional Spanish custom of enjoying mini dishes with a glass of wine or beer gets a global twist at La Veranda where familiar choices are replaced by a stunning array of options from various styles of cuisine.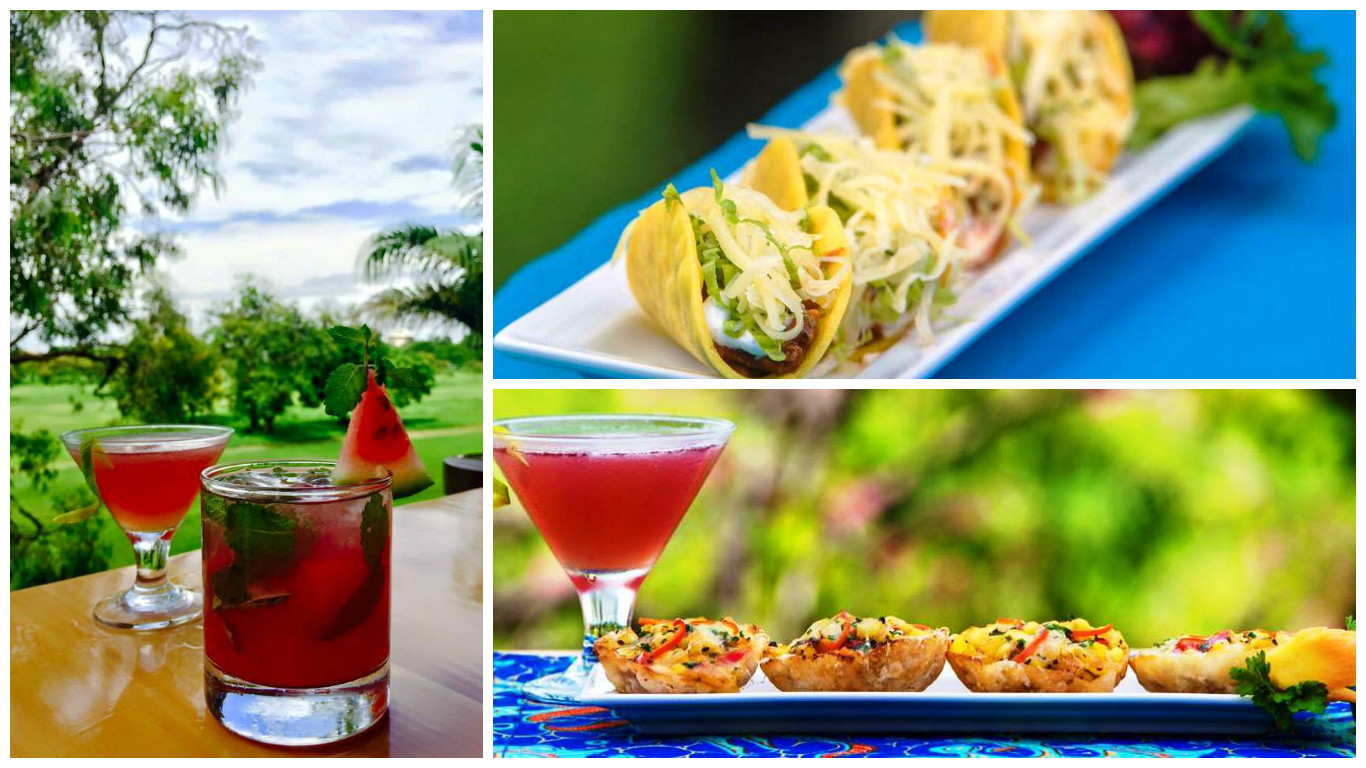 La Véranda offers over ten vegetarian options, a similar number of chicken choices and a good selection of other meat plus seafood dishes. Each portion is suitable for two diners and a choice of side dish comes with every two tapas choices ordered.
A great way to start this novel tapas experience is to ask what cocktails bar manager Umesh is serving. We were presented with a Passion Fruit Mojito. The tangy, refreshing creation was the perfect tipple to enjoy while admiring the views of the golf club at sunset. One can, of course, start straight off with wine served by the glass or bottle. There is a decent choice of well-priced Old and New World wine. Beers, spirits and soft drinks are also available.
Hussain Shahjahan, the friendly and extremely professional restaurant manager, helped us select a diverse range of tapas that were served to us in pairs by our efficient waiter Prosper. First up came a winning combination of finely minced lamb kebabs ('Souvlaki'), light pitta bread with a well-made yogurt dressing. Next was the Dijon Cottage Cheese Cubes, squares of paneer simmered in a zesty garlic, lemon and Dijon mustard sauce. This went well with the restaurant's special chutneys created by Jabeen (the owner) who devised the menu. They included a fresh mint chutney with chilli plus a more spicy offering made to a secret recipe.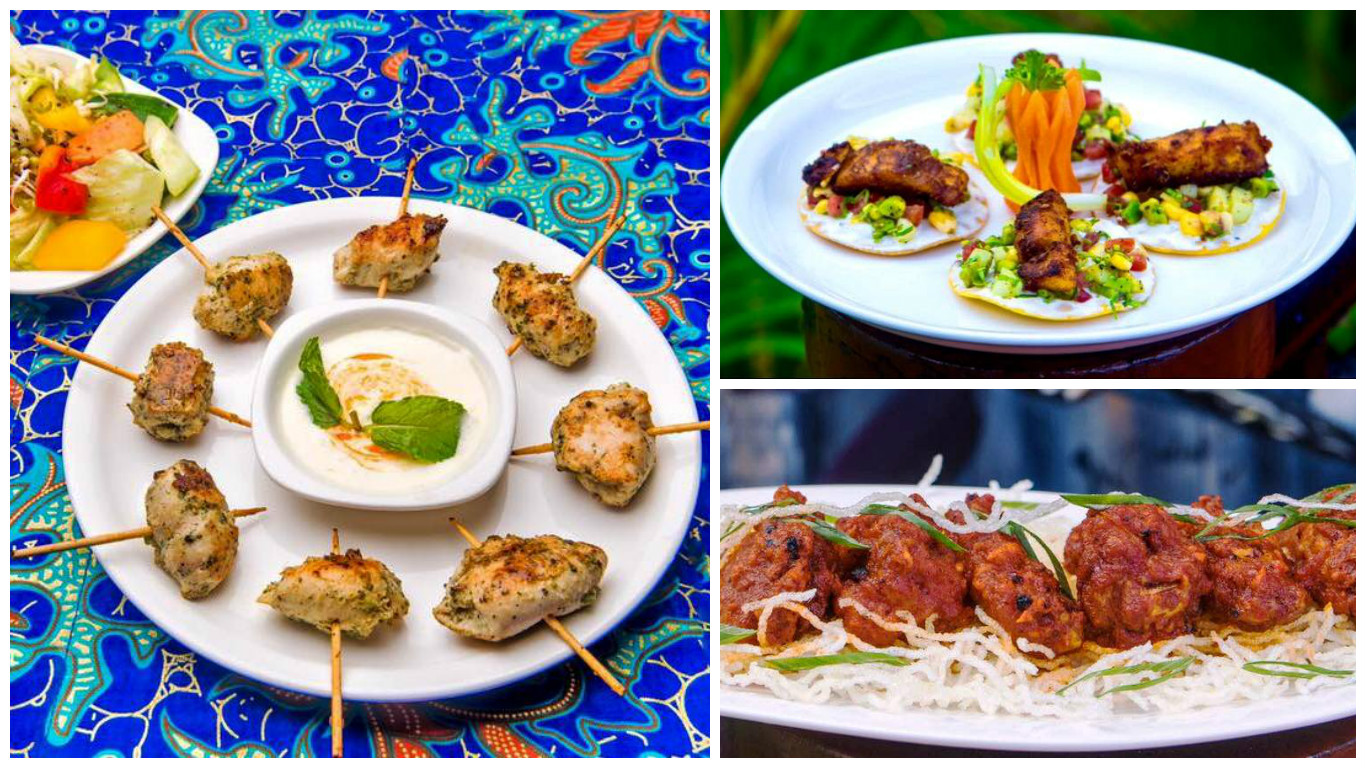 Szechuan Wings, eight deliciously sticky and sweet pieces, was the next offering. This went well with a side of Basmati rice mixed with garlic and chilli flakes and sprinkled with chopped spring onion. The dish of 8 perfectly fried Golden Prawns was served with a mayonnaise-based Tartar sauce uplifted with a touch of Jalapeno pepper.
The menu was not the only surprise of the evening. There was also a complimentary watermelon and ginger juice shot to refresh the taste buds before the final Tapas pair was served. The Basil Pesto Pasta came as four generous, individual portions of really sophisticated fusili with grilled chicken cubes. This was dressed in a pesto sauce which included basil and walnuts. A very memorable dish. Last up came the Chicken Olivetti, eight soft pieces of breast rolled around an olive then seasoned before cooking. A garlic dipping sauce came with the dish. The side of Couscous salad infused with lemon tasted extremely fresh – as did all the beautifully presented dishes served to us.
Simple but tasty dessert options include banana fritters with vanilla ice-cream. The dates rolled around a crepe to produce a naturally sweet pudding served with vanilla ice-cream was sufficient for two sharing after an evening of wonderful Tapas treats.
La Veranda is a welcome refuge from the rush hour traffic and a rewarding experience for intrepid diners ready to venture beyond the popular eateries. Great value, diverse dishes in a bright, breezy setting offer a really unusual and memorable Tapas experience.
La Veranda Tapas Bar
Upper level of Alliance Francaise (French Cultural Centre)
Ali Hassan Mwinyi Road
Secure parking behind Las Vegas Casino
Tel: 0763 491 212
Closed Mondays