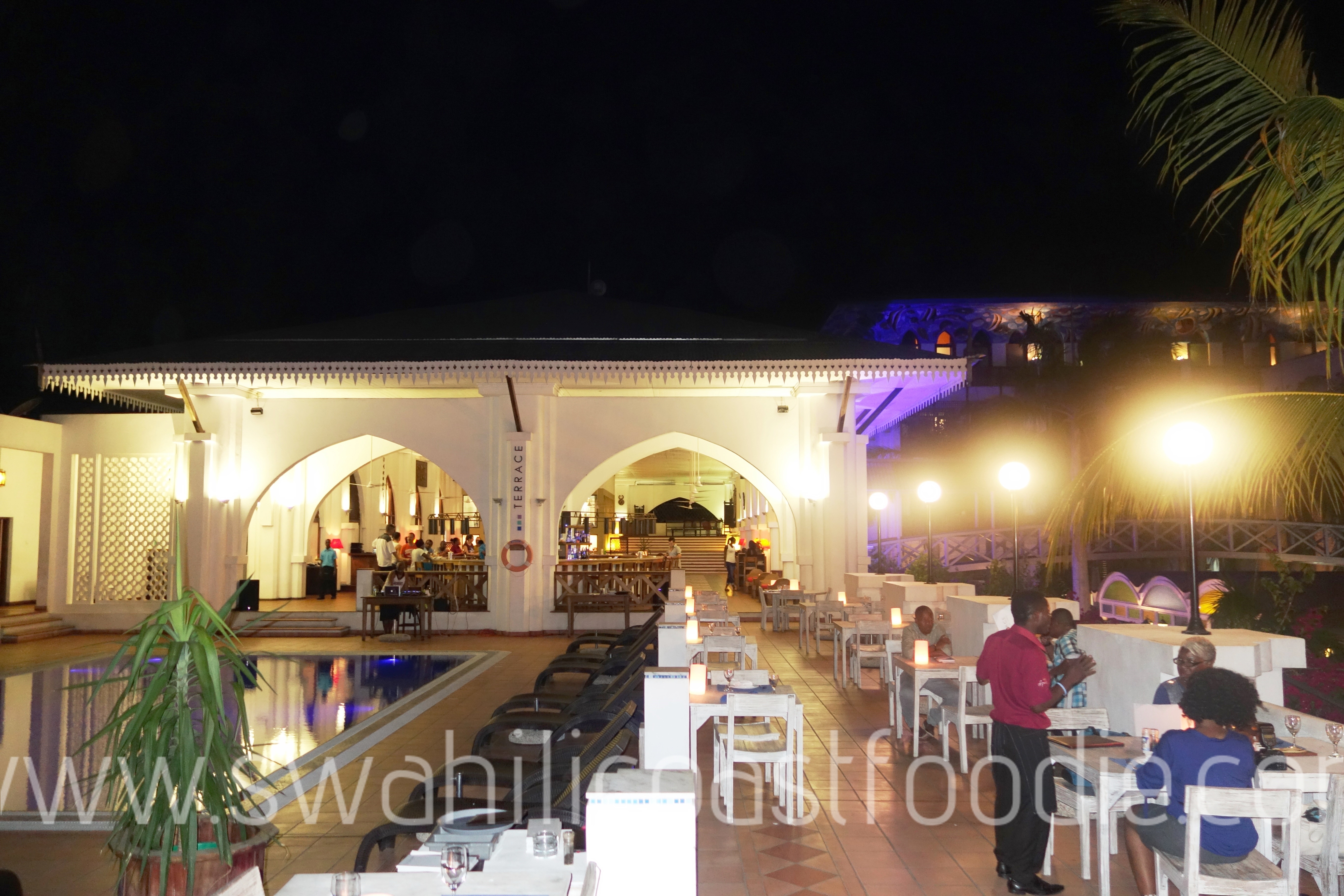 The best way to enjoy al fresco dining at The Terrace is to have a sundowner at the restaurant's bar before moving to one of the poolside tables that overlook the Slipway complex and ocean beyond. Michalis Xekalos, who manages this popular restaurant, has created the perfect space to dine under the stars and manages a team of efficient and friendly staff who will ensure you have a delightful evening.
Since October 2015 the menu has been shaped by Carl Chapman, whose experience spans both Europe and Africa, including the priceless opportunity to work under Michelin Star chef Wayne Michael Leadon. Chapman describes the menu as 'French brasserie', reflected in dishes like the popular bouillabaisse broth filled with Indian Ocean seafood. His classic fine dining expertise, however, actually offers a very creative (and tempting) blend of stunning dishes from various influences.
The nine first course offerings included some dishes rarely seen in Dar restaurants.Ordering was simple as our efficient waitresses Zaituni and Victoria knew the menu well. The Bone Marrow served with garlic confit (slowly cooked whole cloves), cassava chips and salsa verde was an innovative starter. The Chicken Liver Parfait made with Cognac, Madeira and Port was absolutely sublime. The pate was crafted from legendary chef Raymond Blanc's recipe whereby the livers are soaked in milk and salted water. It was intriguingly (and successfully) served with orange infused beetroot chutney and grilled brioche.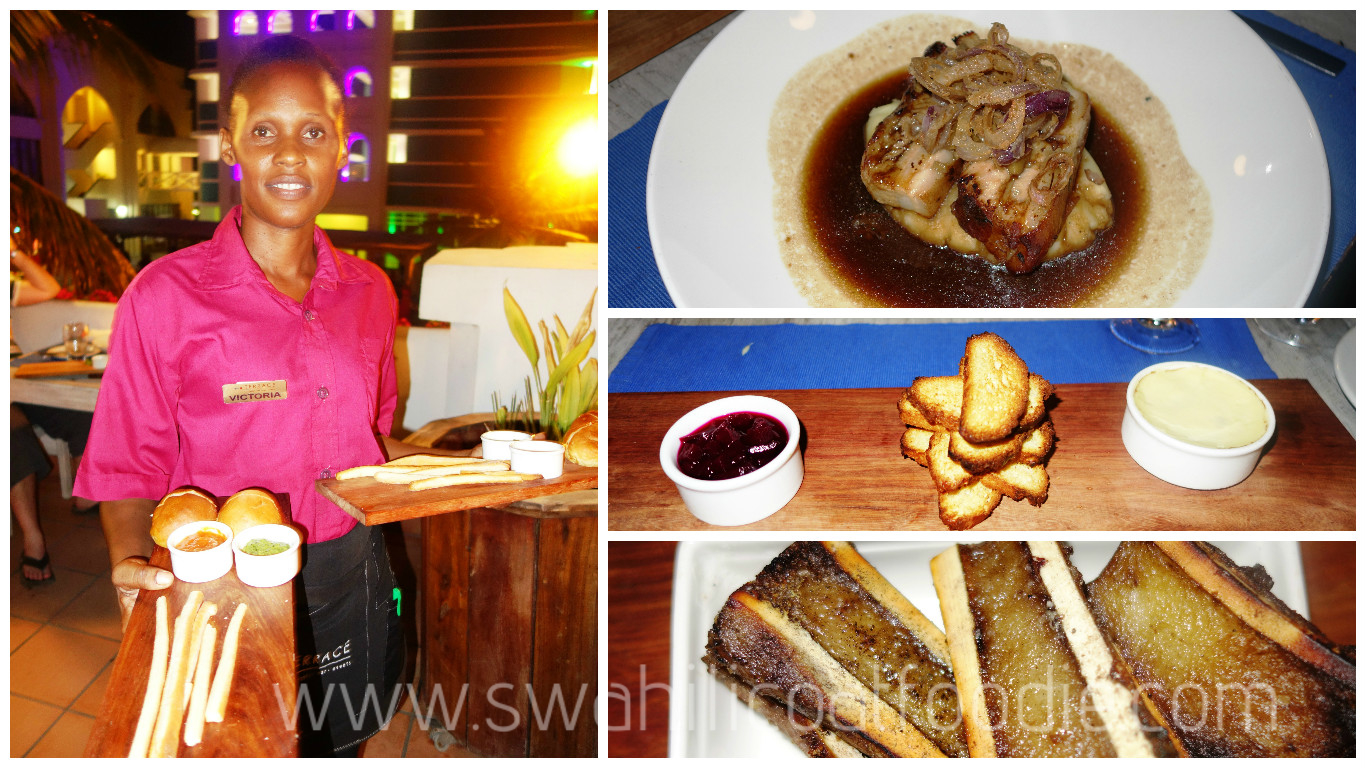 Mains at The Terrace range from the hugely popular free-range Beef Fillet to Grilled Barracuda. The restaurant's version of OssoBucco (an Italian term meaning 'bones with holes') using beef shin really showcased the chef's talent for turning an array of meat cuts into very sophisticated dishes. Braising for some seven hours produced a succulent beef that was rich and satisfying. It was served with deep-fried gnocchi, gremolata (an Italian garnish of raw, finely chopped garlic, parsley and lemon zest) plus blackened capsicum.
'Star of the show' was definitely the slow-cooked Ginger Pork Belly, the signature dish of the chef, that combined both super-soft meat with an fittingly rich sauce. The smoked garlic mashed potato with cumin onions and candied ginger was the perfect accompaniment to this memorable main course.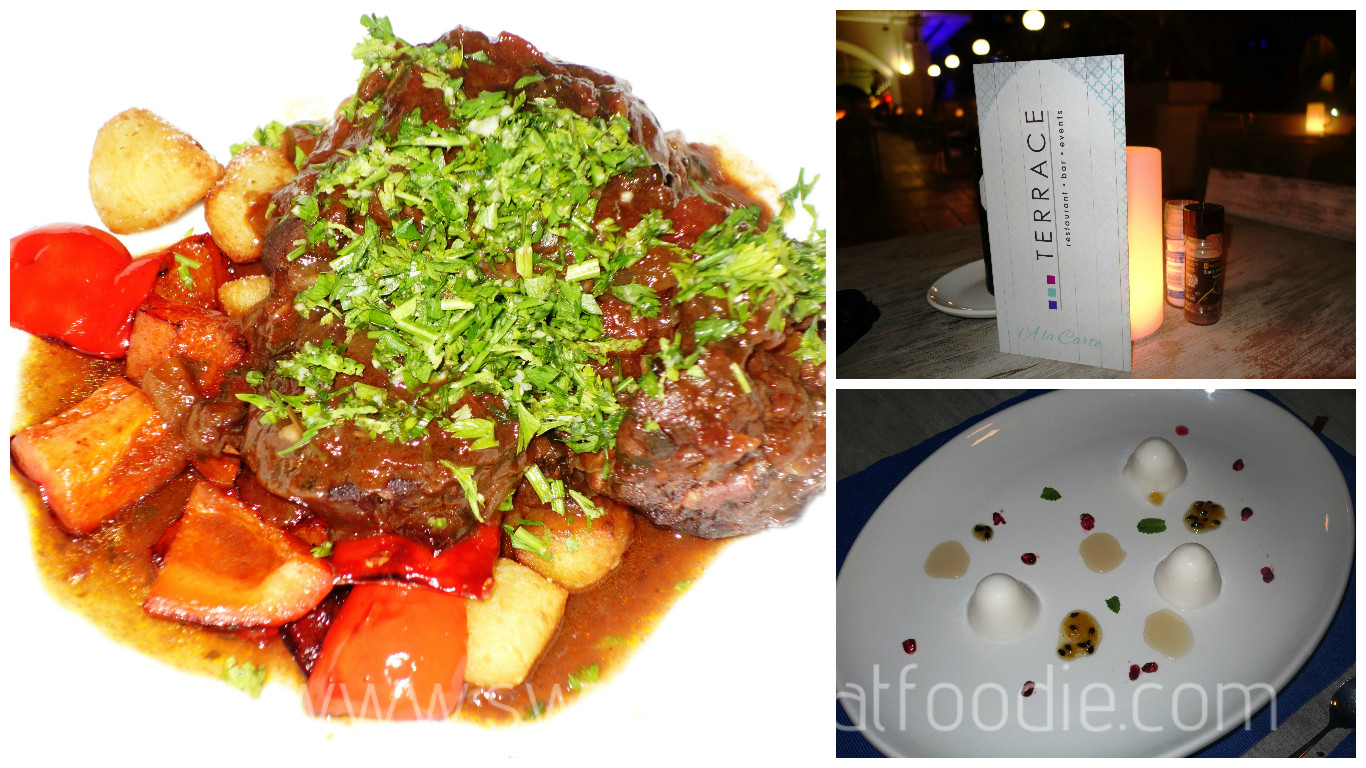 The five desserts were original and tempting options. Panna Cotta, the classic cold Italian dessert made with double cream, was given a Swahili twist by making the light, sweet treat with coconut cream. It was served in tiny scoops in a plate decorated with passion fruit gel served with pomegranate 'pearls' and lemon grass syrup. Just as original and indulgent was the Nutella Cheesecake Lasagne. The name may sound confusing but the creation is actually layers of chocolate biscuit, Nutella, cream cheese and salted caramel. This indulgence is served in a glass pot and was a really lovely combination of tempting ingredients.
Our meal was fittingly accompanied by a very pleasant bottle of Solar Viejo from Spain's celebrated Rioja region and made from the Tempranillo grape was a wise match for the flavour-packed dishes presented by the chef. The wine list, however, has an appealing choice that has something for everyone. There is a wide selection of decent wines by the glass from the Spier range including the Spier Cap Classique.
The Terrace makes every effort to offer you a first-class dining experience. From the crisp table linen to the delicious bread board (with treats like salsa verde), there are plenty of reasons to see why this has become one of the city's most celebrated eateries. Innovative and splendid dishes served with style and great service make this an ideal place for dinner.
Terrace Restaurant, Slipway, Yatch Club Road, Masaki
Look out for the lunch menu being launched in February.