Full marks go to Mumbai Spices for giving Dar's Gerezani area a really fabulous Indian restaurant some 18 months ago. From Dubai to New York the respected franchise has built a solid reputation for offering the diversity of Indian flavours one finds in the cultural melting pot of Mumbai.The stylish and welcoming interior of the eatery pays homage to the megacity with an eye-catching wall with a montage of Mumbai images.
The menu is really a joyous journey through South Asian food, beginning with an array of tempting starters recommended by restaurant manager Tanveer. Chef Muklesh created a delicious peppercorn spicy sauce for the Prawns Pepper Masala. Next was the Chicken Hariyali Kabab, a dish of beautifully moist, boneless, breast meat prepared in a peppercorn marinade before being lightly grilled. Finally, Hara Bhara Kabab, a popular grilled paneer treat from Mumbai, mixed spiced spinach and green peas with the Indian 'cottage cheese'. This came with a mint sauce that added appealing heat to the treat. All are ideal for sharing with 2-3 people.
Dosas, the savoury pancakes that are a classic lunchtime staple in southern India, are made to perfection at Mumbai Spices and served with delicious accompaniments. In fact, they deserve their own blog post!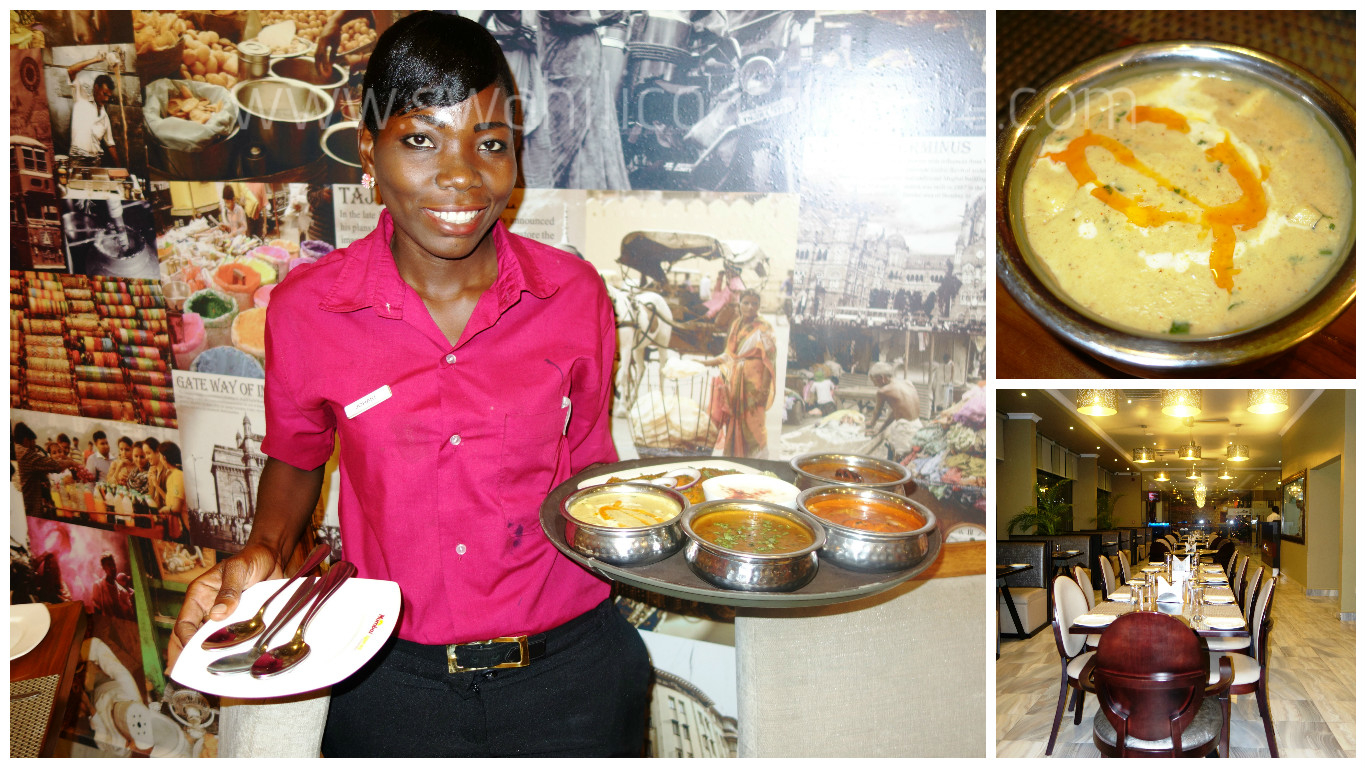 With the expert guidance of food and beverage manager Ramesh, we chose a cross-section of mains to reflect the diversity of the menu. Whether opting for tasty mutton chunks in a really respectable biryani, or the Maharashtran chicken dish made with a superb spicy kolhapuri masala sauce, you will find the mains substantial and satisfying. Especially memorable was the Shahi Paneer, from northern India, with its beautifully rich, cashew nut-based, tomato gravy.
Be sure to try the expertly-made bread. The Stuffed Kulcha – naan with minced vegetable and paneer – came out soft and fluffy from the kitchen's clay tandoor oven.
The restaurant's bar list offers decent New and Old World wines. Australia's Deakin Estate Chardonnay was a good match for the spice-packed dishes we enjoyed. More popular, however, are the refreshing yogurt-based Lassi drinks (both sweet and sour) which the kitchen appears to be constantly making for diners.
To end this Indian feast our efficient waitress Johari served a dish of warm Gulab Jamun. The dumplings in a sugar syrup is a crowd-pleaser for sweet lovers who should also try the Kulfi. This 'Indian ice-cream' sweet treat is made with milk, pistachio, almonds and the attractive flavour of saffron.
Mumbai Spices have created a modern, bright and inviting eatery to enjoy first-class South Asian cuisine. The menu has an attractive balance of meat, seafood and vegetarian dishes that are superbly cooked. With great service and food in a pleasant setting, the restaurant offers great value for diners seeking an authentic Indian dinner.
Mumbai Spices is located at Best Western Plus Colosseum Hotel, Nkurumah Street www.bestwesternpluscolosseumhotel.com