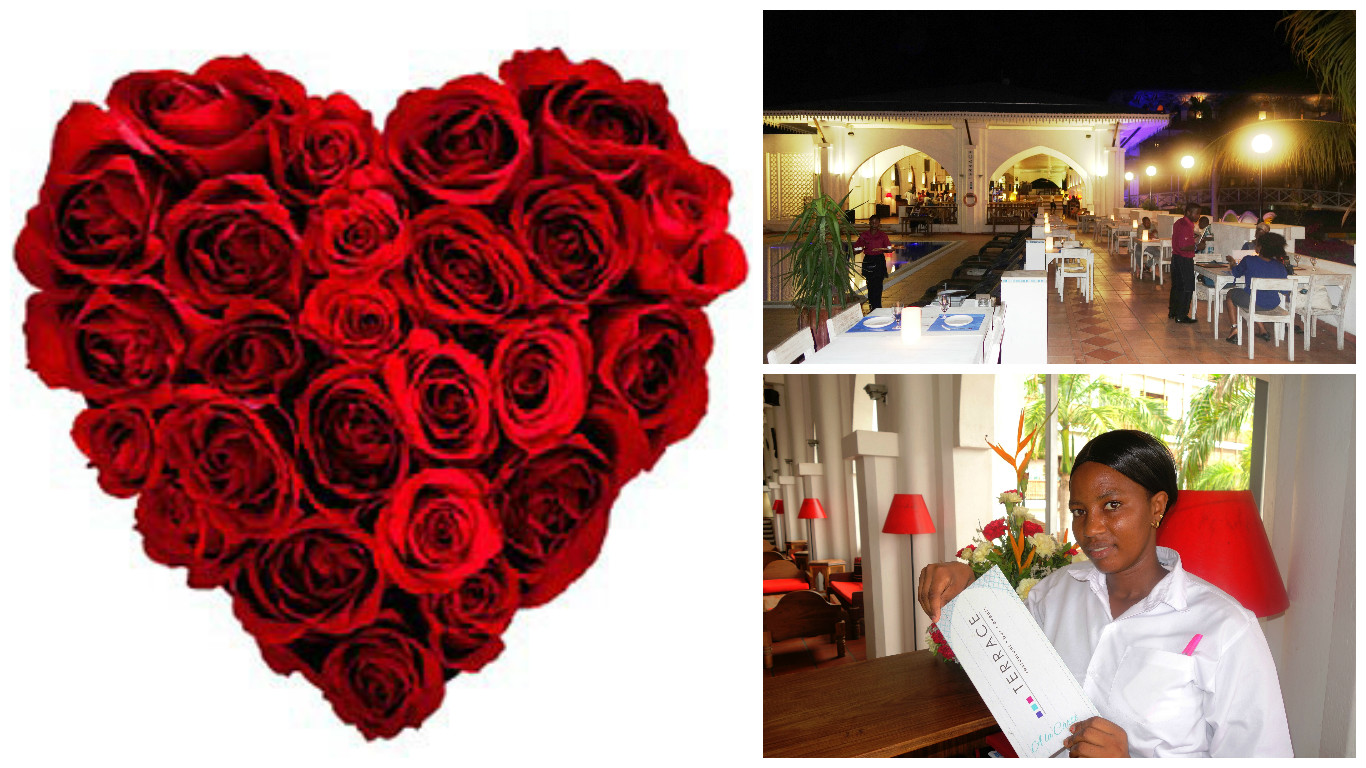 Have you made a Valentine's plan for your sweetheart yet? The team at The Terrace restaurant were asked to share their recipe for creating a memorable Valentine's dinner. Chef Carl Chapman, who has created romantic meals in venues around the globe, explained how he would prepare for the special day. Firstly: Plan ahead. "A romantic dinner is the perfect end to a memorable Valentine's day but this is one of the busiest evenings of the restaurant calendar." says Chef Carl. Going out to eat leaves most of the 'heavy lifting' to the restaurant but Michalis Xekalos, manager at The Terrrace, strongly advises: "If you are planning a Valentine's dinner then reserve a table as early as possible."
The Terrace's next ingredient for preparing a Valentine's meal is: Keep it Classic. Old-fashioned romance is timeless. Wining and dining in style is the perfect romantic gesture. "At The Terrace your evening can start at the bar or lounge area with a complimentary glass of bubbly and canapés," says Chef Carl. There is also the option of having one of the senior barmen expertly mix you a classic cocktail. Chef Carl recommends the Whisky Sour. "Dinner around the pool can then be taken at your leisure." explains the chef who will be personally preparing his special menu for some 30 couples. An indulgent four-course menu means there will be plenty of time to relax and enjoy the tranquil al fresco ambience of the ocean-facing restaurant.
Bubbly, of course, is a classic Valentine's tipple but Michalis has included other treats on his special wine list. "We shall be offering some outstanding wine pairings with the menu," he reveals, "together with a choice of 8 South African red, white, sparkling and Rosé choices by the glass." To give the romantic evening a French flavour the restaurant is offering the Loire region's Barton and Gustier Passeport Sancerre made from Sauvignon Blanc grapes. This is especially ideal for the first course options of lobster salad and tempura or aloo tikki ̶ the popular North Indian potato cake ̶ with tamarind chutney. New World offerings include the multi-award winning KWV Mentors Semillon from South Africa's Western Cape. This is an outstanding wine for a special celebration.
The Terrace's final ingredient for a Valentine's Day dinner is simply: Fine food. Chef Carl's menu is designed to impress. "I shaped it around a marriage of flavours, textures and tastes." he explains. Carl's choices include indulgent classics like lobster, fillet of grass-fed beef and ricotta tortellini. In addition, the master of meat dishes will also offer a cider-braised pork neck. There is a tempting vegetarian option for both the first and main course. A selection of aromatic bread is included in the price plus a Kir Royale sorbet. Finally there is a White chocolate and blackberry parfait with a dark chocolate brownie and strawberry gel. Chef Carl suggests enjoying this decadent dessert with a classic, mint-flavoured Grasshopper cocktail made with fresh cream, Crème de menthe and Crème de cacao. Manager Michalis is proud to offer this "Food made with love" and equally keen to ensure it is served with care by his staff that make every effort to give each patron a fine dining experience.
Sharing great food is one of the best ways to create special moments. So try following this recipe from The Terrace to produce a truly memorable Valentine's dinner.
Valentine's Day Dinner at The Terrace is 45 USD per person. To book call: 0659 608 507; email: terrace@retom.com; or call in any time to the restaurant at The Slipway, Yacht Club Road, Masaki, Dar es Salaam.