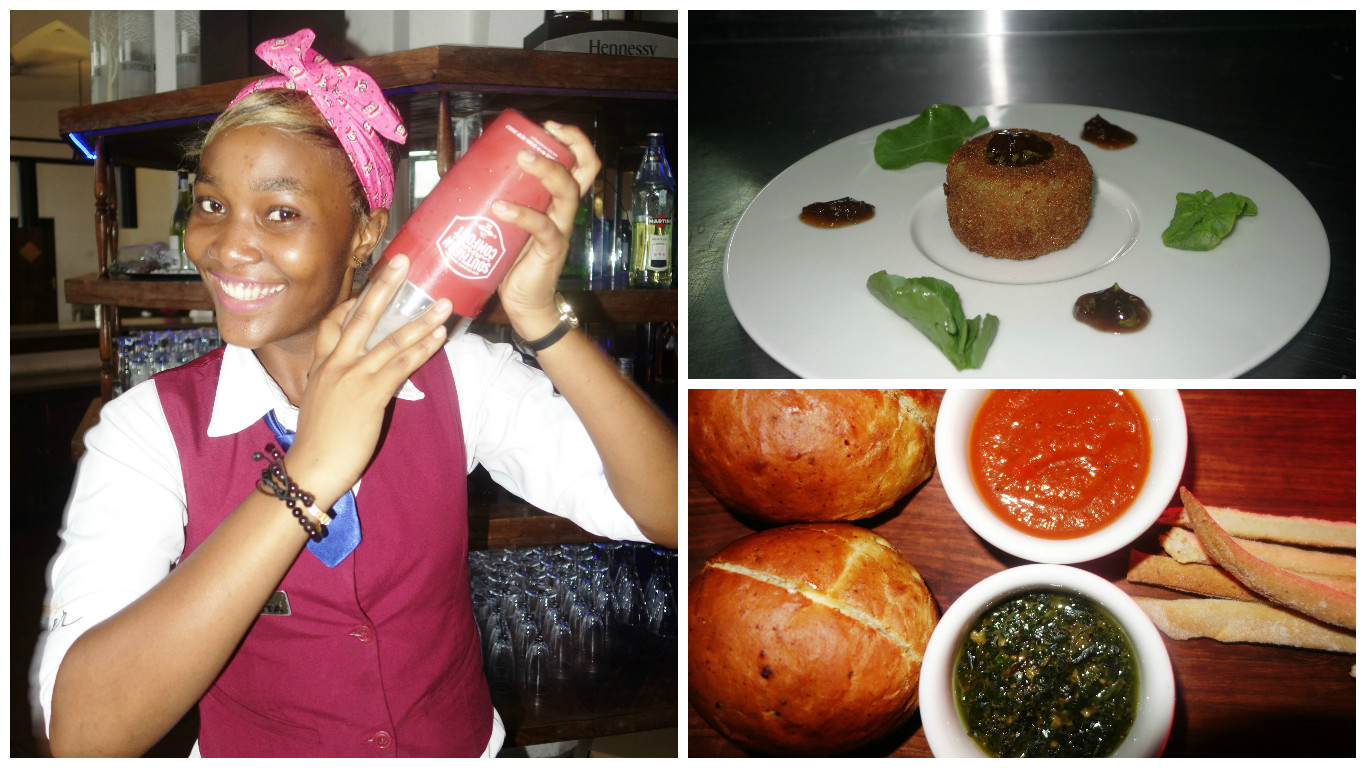 The dynamic duo of Chef Carl Chapman and Manager Michalis Xekalos showed their skill for arranging special occasion dinners with finesse on Valentine's Day this year. The Terrace looked stunning with a spacious arrangement of rustic tables, sparkling glassware and subdued lighting reflecting off the pool. It was a real pleasure to return and see the team shine on this special occasion.
The scene was set for a relaxed and memorable evening that began with a short but splendid sunset which heralded our cocktail hour. Behind the bar was Anjelica, a proficient cocktail maker, who expertly made a great Cosmopolitan and created range of other fabulous concoctions.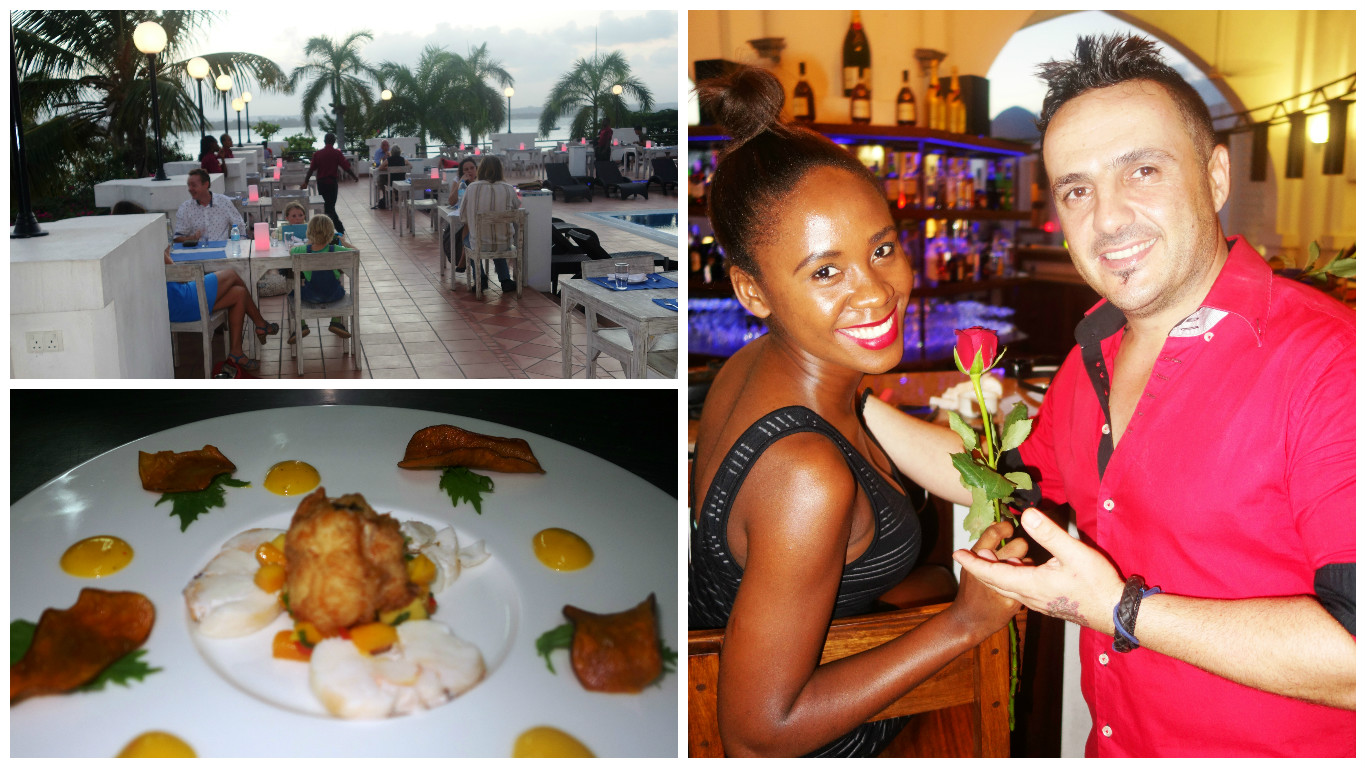 Our table was delightfully positioned near the pool although the layout for the entire restaurant ensures all diners enjoy a relaxed ambience. Complimentary bubbly plus a fine bread board awaited us. Elias, our helpful waiter, clearly explained the set menu which thoughtfully included non-meat choices for the first and main courses.It also had some really smart wine pairing suggestions devised by the restaurant manager. These were arranged by the glass and bottle.
The first course of Lobster salad and Mango salsa with Lobster Tempura and Sweet potato tuille was a fine dish. Sliced lobster pieces went well with the salsa which had a little heat to it. All parts of the dish went well together. The alternative was deep-fried Aloo Tikki. It was light crispy on the outside with a soft inside of potatoes, spinach and mild spices.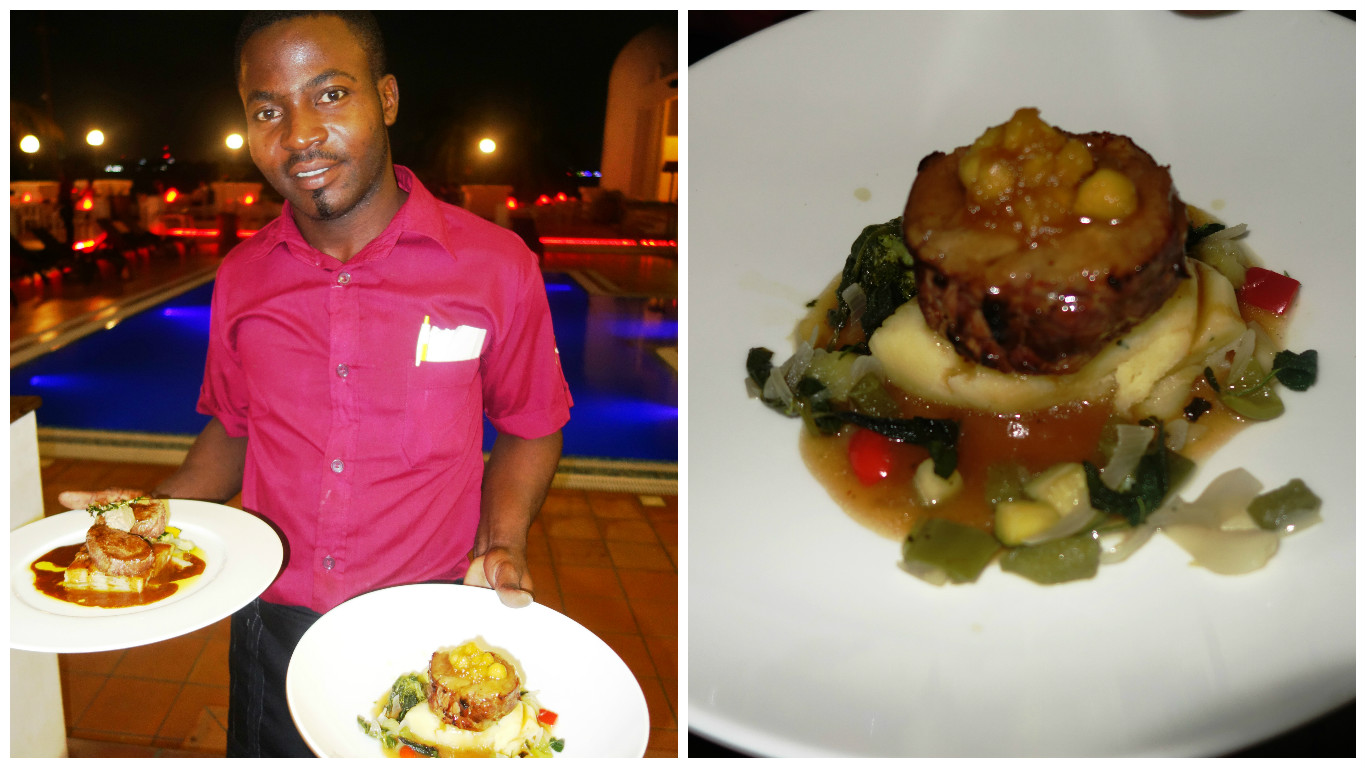 A tiny melon and tarragon sorbet arrived before two majestic main courses. The Fillet of grass-fed Beef with Mushroom puree created a dish of big flavours that was accompanied by layers of potatoes cooked with butter. The choice of B & G Passeport Medoc from the Bordeaux region of France was a suitably bold wine for this rich dish. Equally impressive was the Cider-braised Pork neck. Chef Carl showed his butchery knowledge by using this super alternative to pork belly. With a lot more fat than the pork shoulder but less fat than the belly, it had a special succulence. This was a 'melt in your mouth' experience. It was suitably served on a stack of sage crushed potatoes with a perfect caramelised apple jus. Spier's Signature Pinotage, a medium/full-bodied wine, went well with the dish and had all the flavours of the grape that South Africa has mastered.
For the final course, The Terrace had a tempting version of the classic parfait dessert of ice cream and fruit or ice cream and syrup in alternate layers. Their White Chocolate and Blackberry parfait was served with a Dark Chocolate brownie and Strawberry gel. The Spier Méthode Cap Classique, made of outstanding Chardonnay grapes from Stellenbosch, was a suitable crisp South African bubbly for this final course and the ideal way to end this celebration meal.
A relaxing setting, elegant ambiance and fine food make this the perfect place for celebration or special occasion meals. The Terrace's Valentine's dinner showcased their ability to create various menu styles complemented by fine wines. The restaurant waiting staff and kitchen team work well to ensure patrons' orders are delivered with efficiency thereby giving diners a super service. This is certainly a restaurant that offers both great value and high standards in a lovely location.