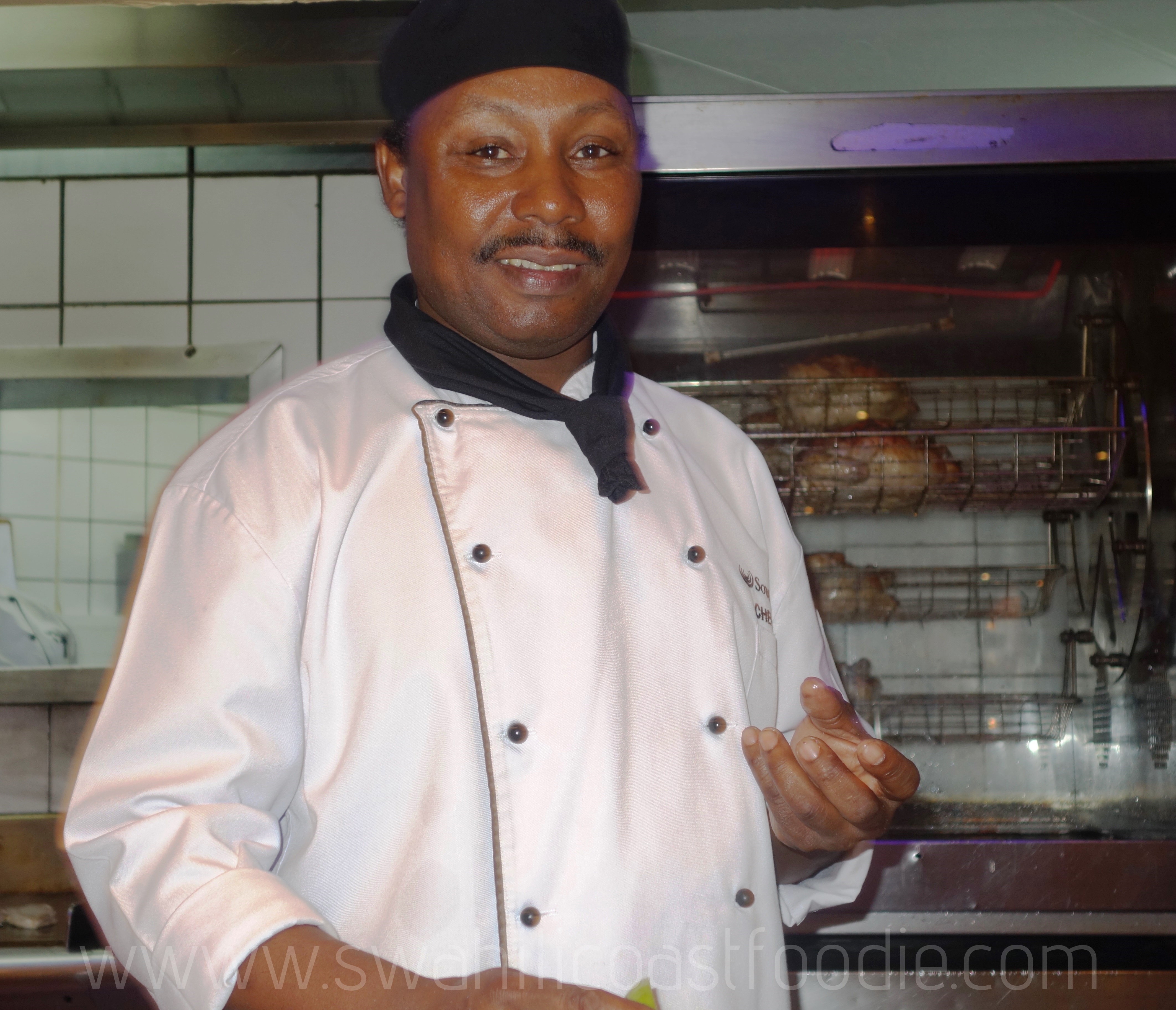 Someone very wise once observed that any eatery is only as good as those who work there. Baraza Grill at Southern Sun is no exception. One talented team member is Sous Chef Saleh Ali Amed, third in command of Baraza's kitchen.
In 1992, the young Saleh found himself working as a gardener for expatriate tour operators in Stone Town. They saw potential in the hard-working house boy and encouraged him to consider a career in hospitality. "I was enrolled at the Zanzibar Institute of Tourism before joining the kitchen staff of a mobile camp working across Tanzania," explains Saleh, "plus I underwent training at the famous Utalii College during occasional visits to Kenya." His talents eventually landed him a job at one of Dar's most respected hotels where the Zanzibari chef is known for his flair with seafood which features prominently on Baraza's menu.
Saleh always recommends sourcing seafood at Ferry's auction instead of stalls to secure the freshest catches for the best price. He also suggests always buying ice at Ferry to keep seafood purchases in peak condition in the heat of Dar and avoiding filling your vehicle with a fishy aroma no matter how short your journey home.
Saleh explains that King prawns are more readily available than larger Jumbo or Giant prawns in Dar. His preference, however, are the Tiger prawns which are slightly smaller than King-size. "If you leave the head on a prawn always remove the vein," advises Saleh who adds, "and use running water to thoroughly wash the head as they often contain a lot of sand."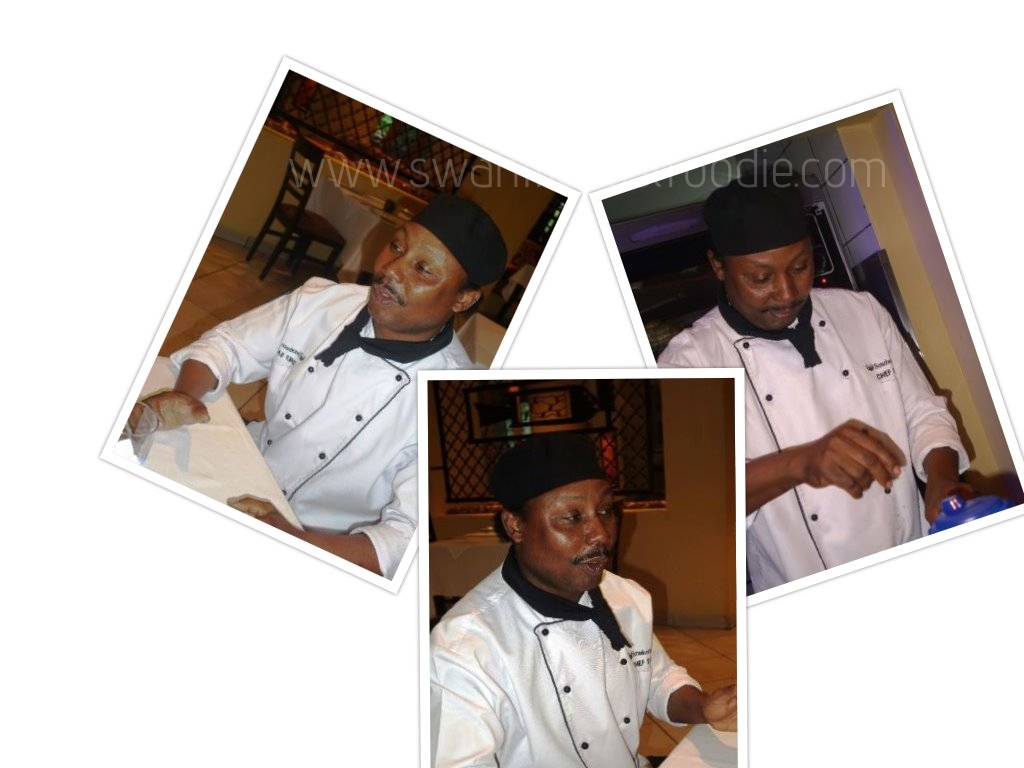 One of his favourite ways to serve Tiger prawns is to use a Swahili-style marinade of curry powder, turmeric, cumin, lemon juice, garlic, onion, oil, salt, pepper and freshly-chopped coriander. Equally delicious for Saleh is Swahili Prawn Curry. This is not just a family favourite but can be ordered from Baraza's a la carte menu. The spicy, fresh and creamy dish is given its special Coastal flavour from the use of local seafood and coconut milk.
Another regional favourite of the Zanzibar chef is Swahili-style chicken soup. Saleh warns that some less honest poultry sellers these days will try to sell a layer as a broiler. "The broiler is far softer with smoother skin." says Saleh who notes that the meat of layers will be more 'yellowish' in appearance. Once you have secured good chicken meat the next step in creating such a Swahili dish is to combine spices to create the perfect flavour.
Saleh loves to use the abundant selection of spices found on the Swahili Coast but prefers not to use pre-packaged, supermarket options. "They often lose their aroma if they stay on shelves for a long time," says the sous chef, "so I prefer to grind spices myself to get more flavour."
Creativity shines in his food presentation. One simple tip from Saleh is to use fresh herbs that are actually used in the dish itself.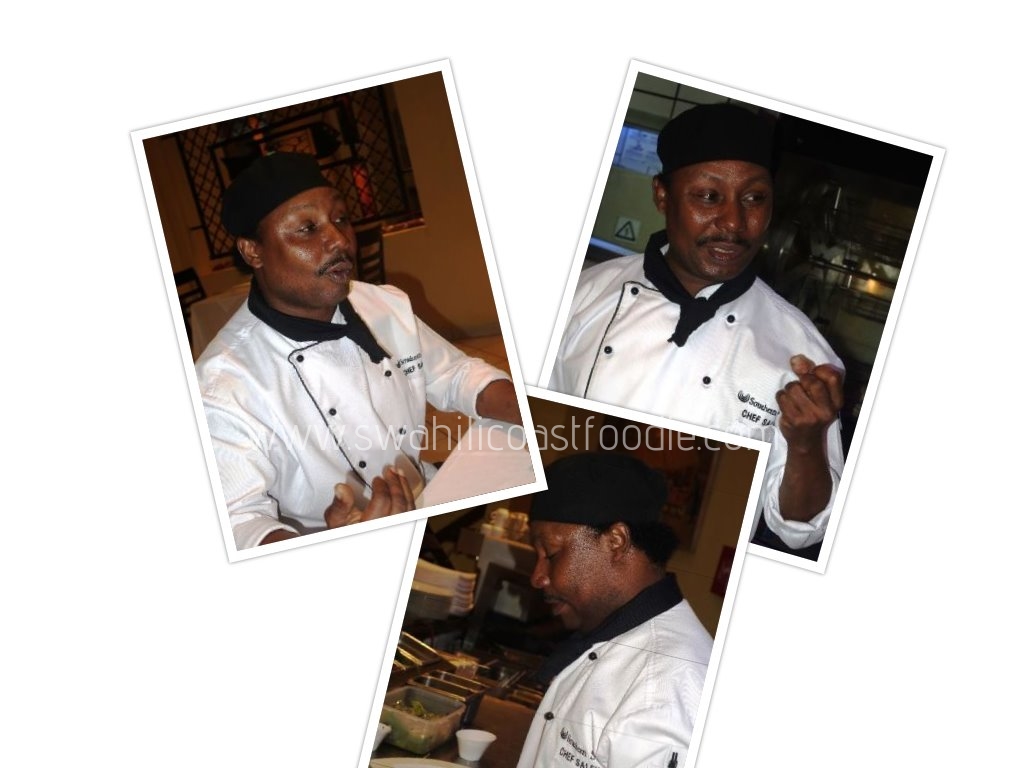 Naturally, the Baraza team have a professional kitchen set-up but Saleh believes every home cook can follow simple steps to create an organised, hygienic workspace. "Any kitchen can be organised into specific areas, for example pots or pans in one place," suggests Saleh, "so utensils or ingredients are easily located." Finally, Saleh is keen for everyone to remember proper food storage practice. He notes it is often forgotten that cooked food suitable for refrigeration must be allowed to cool properly. Failure to do so can raise the fridge temperature thereby encouraging bacterial growth while the steam produced may also affect the taste of the actual dish.
Saleh's final foodie tip is to encourage everyone to discover the diverse taste experiences of regional food across Tanzania. He is passionate to have both visitors and citizens have more opportunity to enjoy Tanzanian dishes prepared by professional chefs. Swahili Coast Foodie certainly agrees!
Visit Baraza Grill to speak to the staff about their a la carte menu, weekly specials and private dining options.
The Baraza Grill, Cafe and Restaurant
Southern Sun Hotel
Garden Avenue
Dar es Salaam
+255 22 213 7575
www.tsogosun.com/southern-sun-dar-es-salaam