Korean restaurants aren't commonplace here in Dar, but since Oktopbang opened its doors in February 2016,  Dar foodies now have a place from which to explore the exciting cuisine of the South-East Asian nation. Located in a quiet street off Kahama Road in Masaki, Oktopbang is a welcome addition to Dar's ever-increasing number of oriental restaurants. The restaurant has an intimate indoor bar area and pleasant outdoor seating on raised decking.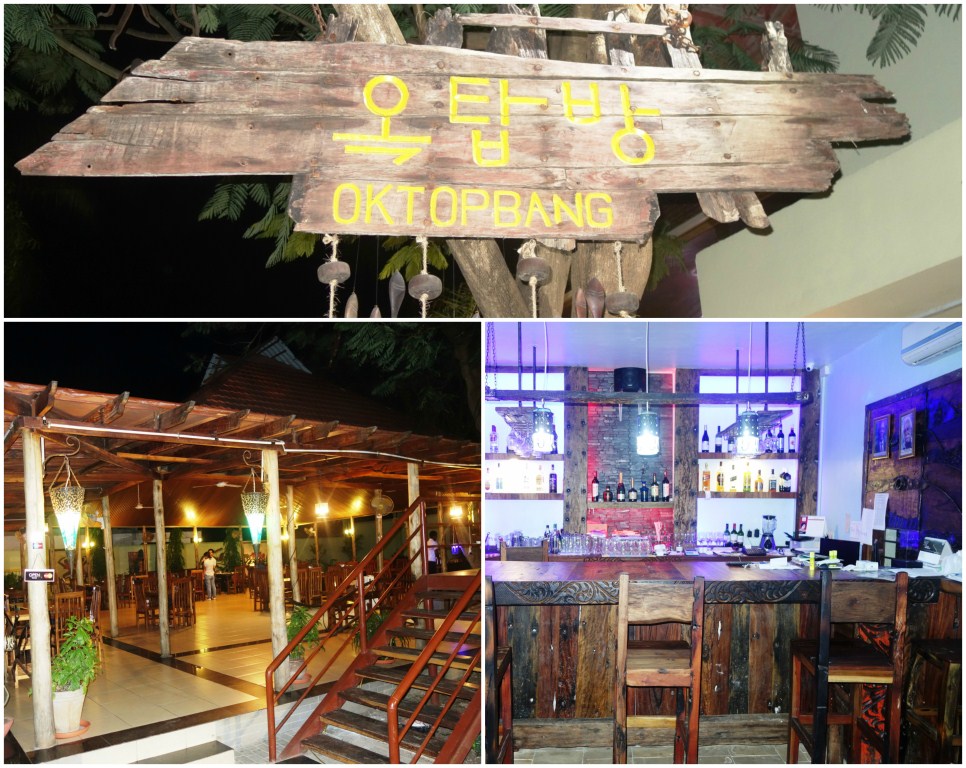 I was approached to be one of the blog sponsors for Dar Restaurant Week and to sample the menu at Oktopbang as it is one of the fabulous restaurants featured in this super initiative. It is almost 15 years since I first tried Korean food in a small restaurant in Manchester, England, and I wanted to use this opportunity to sample this tasty Asian cuisine once again.
I was joined by my companion for the evening at a smartly presented table and was intrigued by the tabletop grills provided to all diners.
The menu is extensive, listing over 50 different main courses. Beef and pork play a significant role with choices ranging from marinated beef steak (Tshs 28k) to marinated pork belly (Tshs 45k). Poultry is represented with two options: chicken gizzards (Tshs 19k) and chicken wings (Tshs 19k). Seafood play a prominent role on the menu with dishes such as marinated squid and marinated prawns.
Noodles and rice play a key part in Korean cuisine so the Oktopbang menu includes tempting options like chilled buckwheat noodles and Kimchi fried rice.
There are two main dishes being offered at a discount price for the Dar Restaurant week. First is the Oktopbang Special beef (Tshs 21k) second is Korean soused beef (Tshs 29k). Both are normally priced at Tshs 36k but now reduced and on offer only for Dar Restaurant week.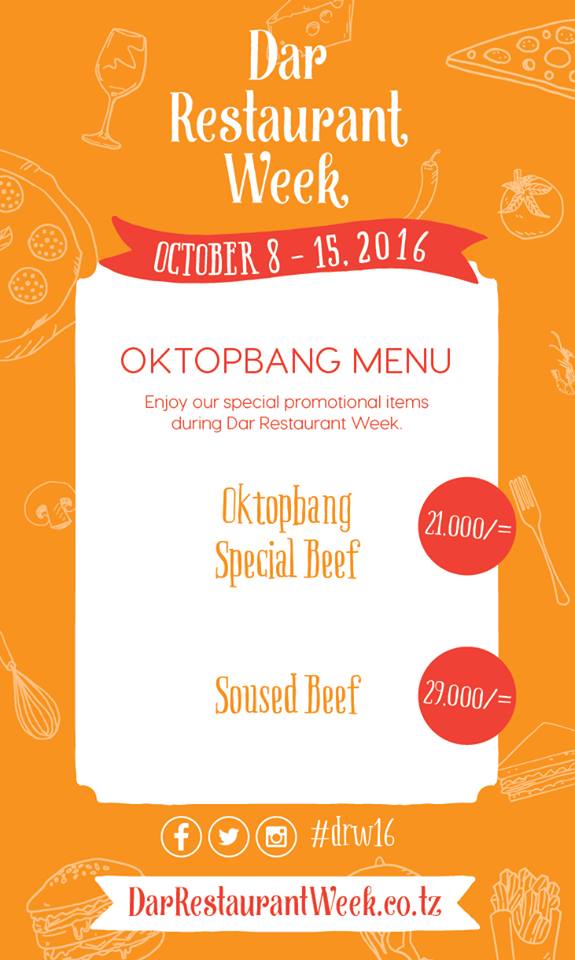 Fresh salads and condiments (known as banchan) were brought to the table soon after we sat down. So spread included tiny plates of fresh chilies, fresh garlic, brown sauce of fermented bean paste (called ssamjang), kimchi (the famous Korean side dish of fermented cabbage), chilled pumpkin porridge and yellow bean sprouts dressed in sesame oil dressing.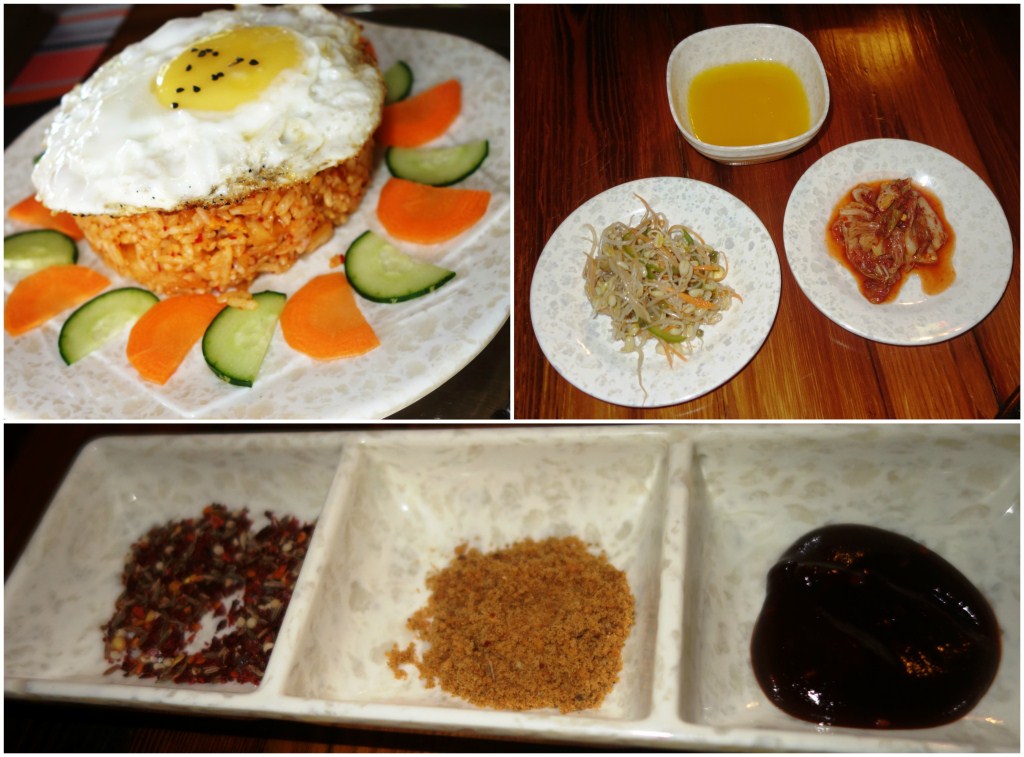 Oktopbang is a completely authentic Korean restaurant.The two special offer beef dishes we selected arrived at the table raw and the restaurant manageress put on our table-top grill so meat could be cooked on the grill plate.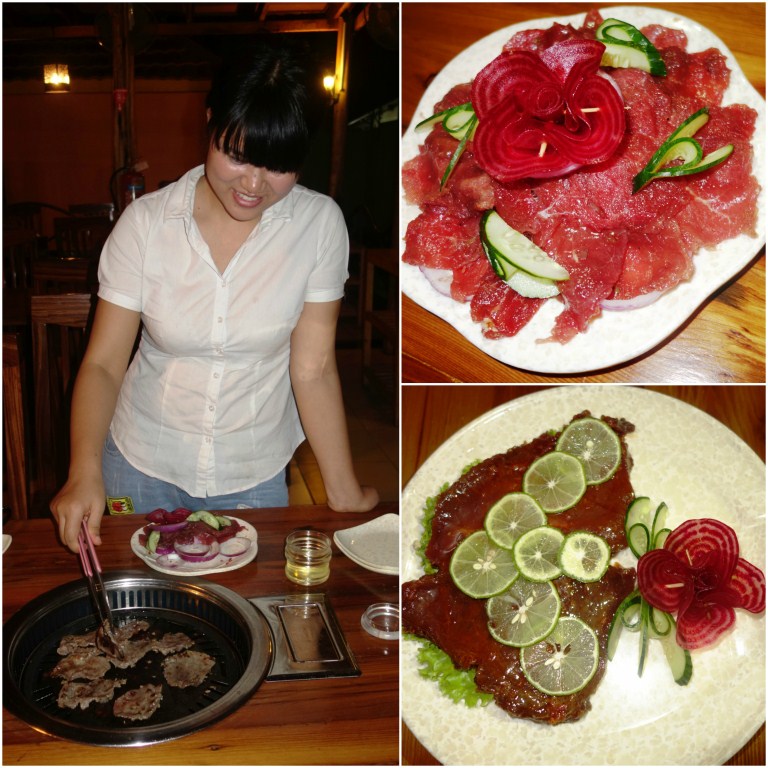 These main dishes did not include rice or salad. But the manageress recommended (and I would recommend you do the same) for us to order the green salad consisting mainly of lettuce leaves and crunchy vegetables. We later learned that we need to use the leaves to wrap around the meat together and then combine with some of the condiments. It was fun experimenting with different combinations of condiments.
After scouring the menu for another side dish, we settled for the fried rice mixed with kimchi and fried egg.
We tried the first dish, the soused beef, which was very high quality, thinly-sliced steaks. The restaurant manager explained that they have been developing amazing flavour in some special Korean marinade for about 10 hours. The result was wonderful! We mixed it up with the condiments, kimchi and the rice. The whole dish experience was nothing short of amazing!
The second dish was the Oktopbang Special beef. This consisted of marinated beef fillets sliced very thinly into strips. The very high quality beef was cooked very quickly on the grill. We managed to deduce from the manager that the marinade consists of  fermented bean sauce and pears to tenderize the meat while also adding some sweetness. We were advised to wrap the meat and crunchy vegetables with fermented bean sauce within a lettuce leaf into a tight bundle and consume it in a single bite. They were indeed bites of deliciousness!
Let me take a moment to talk about the fried rice with kimchi. It was absolutely delicious. The sunny side fried egg on top serves as additional sauce to the rice which has just enough spice and tang to make it one of the best rice dishes we have sampled outside of southeast Asia. You must order this rice dish when you go to Oktopbang!
Communication issues aside, Oktopbang is a really pleasant restaurant with impressive dishes that certainly tempt you back to explore Korean cuisine.
Dar restaurant week is on from 8th to 15th October, so be sure to visit the restaurant this week to enjoy up to 40% discount off these special dishes.
Oktopbang Korean Restaurant, CCM Street, Off Kahama Road, Masaki, Tel: 0753 481 817,Opening Hours:  7 Days a week, 11.30am to 10pm.