Cape Town Series: The striking contemporary architecture of the Durbanville Hills winery tasting room is an inviting destination to sample their wine range.
This impressive space, which has floor-to-ceiling glass for viewing the cellar, has café facilities offering light lunches or food tastings while the adjoining Olive Grove terrace has wonderful views of surrounding vineyards and the ocean beyond. The location of the vineyards supplying grapes to the winery is always important. In this case the vines are situated close to the Atlantic Ocean whose breezes create a cool climate ideal for slow-ripening which help develop the flavour of the grapes.
The tasting room was the perfect place to join Kate Jackson, Destination Manager at Durbanville Hills, to sample some of their wines*. Here are the highlights from her tasting notes –

Durbanville Hills Sparkling Sauvignon Blanc – this delicious sparkling white wine has a distinctive label and has just been released into the South African market. This bubbly has a citrus and floral aroma. It manages to be very fruity yet also pleasantly dry.
Durbanville Hills Blanc de Blanc MCC Sparkling – this bubbly is made exclusively from Chardonnay grapes (denoted by the French term Blanc de Blanc or White of Whites). It is made using the Méthode Cap Classique (MCC) method closely associated with sparkling wine from France's Champagne region. In fact, this refreshing and very appealing bubbly has a classic Champagne aroma.
Durbanville Hills Sauvignon Blanc – a very well-made, great value white wine which has a fruity, fresh aroma. It is slightly acidic and is ideal for Sushi. It is presently South Africa's top-selling Sauvignon Blanc.
Durbanville Hills Rhinofields Sauvignon Blanc – an easy-drinking, fresh, versatile white wine with an attractive grassy aroma and a slightly citrus flavour. The Sauvignon Blanc grape loves the cool climate of the vineyards supplying the winery.
Durbanville Hills Vineyard Selection Biesjes Craal Sauvignon Blanc – this has a slight aroma of lime with a grassy, crisp taste. It is a versatile wine ideal with light lunches and seafood.
Durbanville Hills Chardonnay – two of Durbanville Hills' Chardonnay wines were amongst the Top 15 South African wines commended during the 23rd Chardonnay du Monde competition in Burgundy which received 782 entries from 39 countries in 2016. The award-winning Durbanville Hills 2015 Chardonnay is a clean, crisp lightly-oaked wine. This is a light, elegant Chardonnay with a zesty, citrus aroma.
Durbanville Hills Rhinofields Chardonnay – this reserve range wine has the familiar 'oakiness' of Chardonnay balanced with a crisp acidity and fresh flavour. It is an ideal 'food wine' that pairs well with white meat or seafood.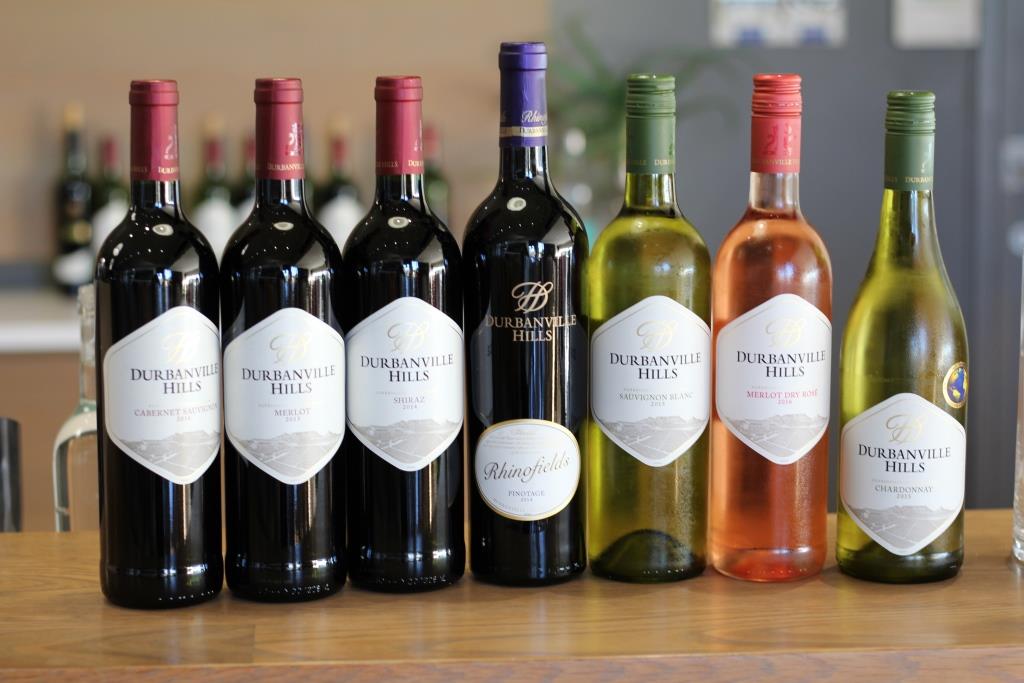 Durbanville Hills Merlot Dry Rose – an attractive 'food wine' with a sweet, strawberry aroma and a full, dry flavour arising from its high alcohol content (14%).
Durbanville Hills Scout Range Nouvelle Pinotage – a subtle berry aroma, a slight raspberry flavour and an appealing dry taste. It is an 'all-weather' wine and 'crowd pleaser' for any occasion. Durbanville Hills Merlot – the winery's top-selling red has a softness that makes it perfect for white wine lovers wishing to move on to reds.
Durbanville Hills Rhinofields Merlot – a medium-bodied, unmistakably South African red with an uncomplicated, 'red fruit' flavour that would actually pair very well with chicken.
Durbanville Hills Pinotage – this wine has a cherry and sweet spice flavour. In cooler areas the pinotage grape produces a light, fruit aroma.
After completing the tasting, the Durbanville Hills restaurant upstairs is perfect for lunch. Look out for the upcoming blog post about this impressive eatery.
(Durbanville Hills is available from MMI in Tanzania and ZMMI in Zanzibar. Remember not all of the wines featured may be available in your country.)
www.durbanvillehills.co.za