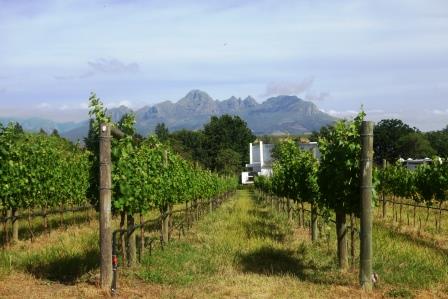 It was a real delight to sit down with Jacques Erasmus, Spier's talented white wine maker, beneath the imposing Heath Nash chandelier — made from 334 recycled Spier wine bottles and weighing 370kgs — which hangs above the tasting area of the Wine Farm in Stellenbosch. This huge space encompasses an expansive lounge, rustic wooden tables with benches and a shop. It forms part of the Wine Farm that is open to walk-in patrons as well as those staying at the accommodation on site.
Tastings take place daily but the team at Spier arranged a special sampling with Jacques, one of their respected wine makers. Before enjoying the fruits of his labour, I wanted to find out more about the approach of the team that had 6 wines included in the 6th edition of the Top 100 SA Wines. "Terroir – where the grapes come from – is vital," says Jacques when explaining the secret to Spier's success, "we source grapes from diverse areas. We always know the history of each vineyard over the decades, we watch vines grow over many years and establish long-term relations with growers to ensure we have the right grapes to produce award-winning wines."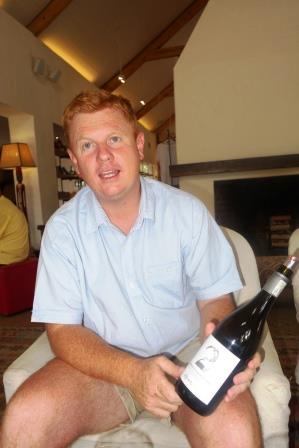 Jacques was also keen to stress the collaborative approach of the Spier workforce: "As a winemaking team we work well together over many years to understand the history of our wines and our closeness enables us to nurture trust in our skills to develop our wines year on year."
When asked about wine blending Jacques says: "The art of blending works best when working with good wines. We must also know what the market wants, then use our experience work out the right ratio of the selected grape varieties and source wine based on the history of vineyards. Finally, passion is critical for blending a great wine."
The result includes creations like the Signature Collection. "We aim to 'over deliver' on quality at a fabulous price. The success of Signature is really in good blending." says the award-winning wine maker who has helped keep Spier at the forefront of the competitive wine industry in South Africa.
Jacques then went on to explain the particular blending style used in wines like Creative Block 2. "We have a South Africa's own 'Bordeaux-style' which has its origins in the wine-making style of the famous French region," explained Jacques, "our grapes, however, are different with riper, bigger, bolder flavours. This creates wines full of richness and more complexity than renowned wines found in Bordeaux."
Finally, Jacques was asked about the story behind the 21 Gables range. "This is a single vineyard range, it relates to our heritage as we focus on Chenin Blanc and Pinotage: South Africa's best grapes. The Chenin Blanc has won awards for the last three years. It is unique in terms of the oak flavour and consistency is taste. We work softly and gently with the grapes to create an unmistakeable flavour."  Here are more Jacque's insights on some of the award-winning wines sampled at the tasting:
Spier Secret Sparkling
"This relatively new wine is made from red Muscatel, Chardonnay and Pinot Noir grapes. This ideal party wine has a sweet aroma but a dry finish. It has a 'unique style' for the South African market."
Spier Signature Chardonnay/Pinot Noir
"Unlike many other rosé wines this wine is made from 60% Chardonnay grapes. It has a fresh, clean nose with the aroma of strawberry and yellow apple. The light pink rosé has balanced acidity, a light pink colour and a crisp, dry taste. Spier Signature Wines like this are great for light meals, seafood or just a refreshing sundowner."
Spier Signature Chenin Blanc
"This is our most popular wine by volume that has been perfected over decades. It has a distinctive, tropical aroma with a slight pineapple flavour. A really refreshing and fruity wine."
Creative Block 2 
"This is made with 85 per cent Sauvignon Blanc and 15 per cent Semillon grapes from Durbanville and Stellenbosch. The wine has a grassy or kiwi aroma.  It improves well after 2 years from bottling, grapes from Durbanville and Stellenbosch. This is an ideal food wine that pairs especially well with seafood."
Spier Signature Merlot 
"Sometimes reds can be overcomplicated with flavouring but the soft tannins of this easy-drinking wine makes this very appealing. It has a fruity, soft, approachable flavour. It has been selling very well."
Creative Block 5
This blend of Cabernet Savignon, Merlot, Cabernet Franc, Malbec and Petit Verdot has a typical 'Stellenbosch aroma'. It is made from ripe red fruit grown in Cape Granite soil. An ideal 'winter wine' producing a rich taste to savour. The wine is ideal a year to three years after bottling.
For more information about Spier Wines and the Wine Farm visit