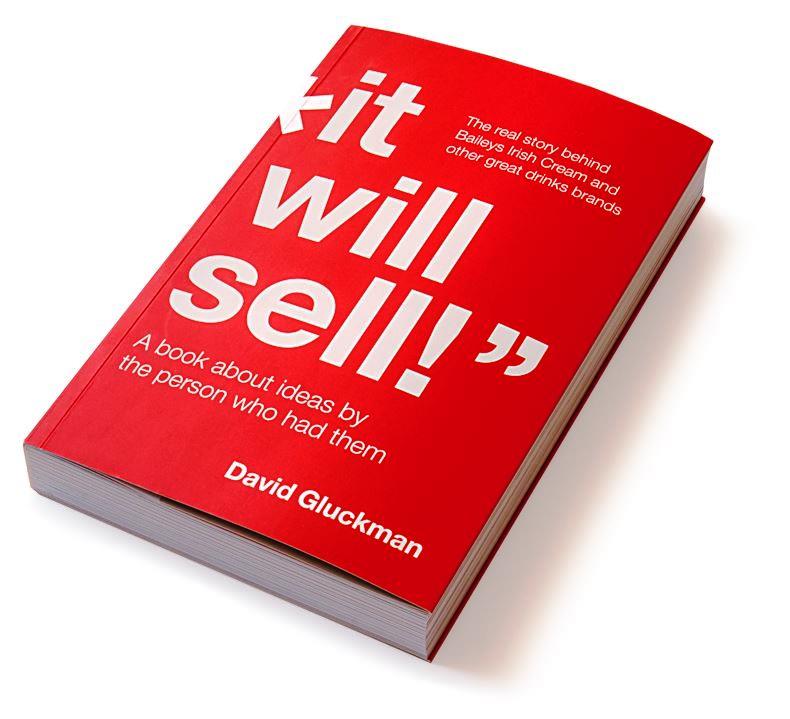 ''That s*it will never sell!'' is the title of David Gluckman's autobiographical book that reveals the astonishing working life of one of the greatest innovators in the drinks industry. Just as incredible is that fact David's career was launched after creating the Baileys liqueur in just 30 seconds…
At a fabulous evening with David Gluckman hosted by Regents University in London, the extremely modest but charismatic creator behind some of the most recognisable drink brands revealed that as a boy growing up in South Africa his mother had encouraged him to pursue a legal career. David opted, however, to study psychology at university where he spent many hours studying rats. He believes such research gave him the "perfect credentials" for entering advertising! He did just that, becoming an account executive, then emigrating to the UK in 1961 to work in various advertising agencies.
After his "transformation" into a product development consultant he set up a business in London's Soho district with copywriter Hugh Reade Seymour-Davies. David contrasted his no-nonsense approach to the business compared with some contemporary product developers who boast of "breaking paradigms" and "thinking outside the box". His response is: "After nearly fifty years in the business, it definitely wasn't rocket science!" He prefers to place emphasis "common sense".

David's big break came in 1973 when shortly after launching the business, the "Irish Brief" came in to his office from International Distillers & Vintners (IDV later to become Diageo): "Someone in Ireland said to someone in London who said to me: 'We need an alcoholic beverage brand for export.'" IDV was keen to capitalise on Ireland's favourable tax regime for exporters.
At this critical point, David drew upon his experience with the Kerrygold butter brand that he had worked on for Tony O'Reilly, the Irish billionaire businessman and international rugby union player. David wondered if Ireland's reputation for dairy produce could inspire an alcoholic beverage. In an instant, David and Hugh went off to buy cream, Irish whiskey and later drinking chocolate powder. It took just 45 minutes to get the resulting concoction produced after their lightning idea and it was swiftly presented to their client Tom Jago at IDV. Tom considered the idea "amazing" and the company's technical staff began turning the idea into a drinkable reality.
Meanwhile, David and Hugh named the drink after Bailey's bistro next to their office while their secretary's husband who was a designer later produced the label for the liquor that was launched a year later. Success was not instant, however, for the brand. David observed: "It takes a long time for successful brands to happen. Baileys didn't amount to anything for seven years." Baileys now accounts for more than half of all spirits exported from Ireland with a glass of the liqueur being consumed every 30 seconds somewhere on the planet.
A succession of drink innovations then followed, with mixed success, including one for Diageo to fulfil the brief of creating a premium Smirnoff to compete with Absolut vodka. David seized upon an idea inspired by the 1818 foundation date of the world-famous vodka bottle. He discovered the spirit was originally made using a pot still method that created a smoother, mellower vodka. The result was Smirnoff Black.

David's innovative flair also extended to the gin world. During a visit to a gin distillery, while sitting on sacks of dry juniper berries that forms the predominant flavour in the spirit, he asked the makers if fresh junipers could be used instead. The result was Tanqueray Ten, considered by many of the world's leading mixologists to be one of the best gins for a martini because of its elegant 'fresh citrus core' flavour.
As a major force in the business of creating new ideas for drink brands for almost 50 years, David Gluckman's cabinet of creations is stunning: Le Piat d'Or, Purdey's, Aqua Libra, Cîroc, The Singleton, Coole Swan and others. His favourite idea (that has yet to be fully realised) remains a Distilled Guinness that could be produced using traditional whisky-making methods. It was interesting to note that after Baileys his clients would only receive one solution to a brief rather than a multitude of proposals.
David concluded his fascinating presentation with some sharp observations based upon his remarkable career. These invaluable insights for anyone engaged in creative, advertising and innovation work today include:
*Ideas only work when they are commissioned by top management. (They have the authority to turn an idea into reality)
*Look at the research you've done: it's a goldmine. (It can save you time and money)
*If you do your own research, you know when to stop. (Learn how to do market research, its invaluable)
*You can always create a better product. (David did many times over!)
*In the world of ideas, the buyer is the real hero. (They make the concept a reality)
Above all, David's reflection that: "If you don't know what you can't do, you can do anything!" embodies the spirit of this audacious, enterprising, inspirational and thoroughly modest genius.
As for the book's intriguing title? You will just have to read a copy of this remarkable tour de force around David Gluckman's astonishing career to find out which of his many creations this refers to…
www.thatshitwillneversell.com