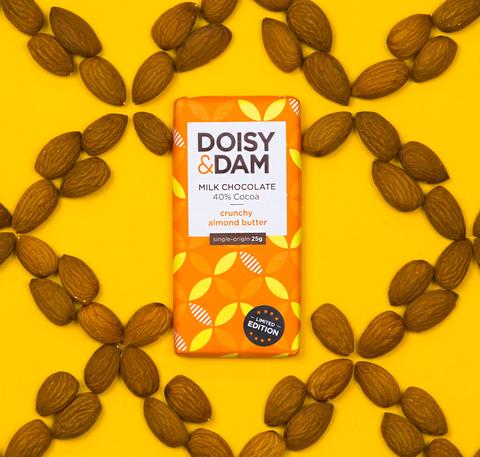 "No crap, nothing unnecessary, better quality ingredients!" is the simple formula that entrepreneur Rich Wilkinson uses to introduce the Doisy & Dam chocolate range to an audience drawn from the food and drink industry in London last month.Chief Chocolate Stirrer Rich, along with co-founder Ed Smith, set up a chocolate company aimed at creating a new level of quality in the UK confectionary market. Since establishing Doisy & Dam just three years ago the company has become a "leading chocolate challenger brand" that reflects the passion and vision of the two founders whose partnership began as boys in the playground where they undertook a series of mini enterprises during their school years. They parted company after A-levels, attending different universities then following careers in finance and marketing. Both, however, shared a dream to establish a business and in an audacious move they resigned from their jobs, moved into a shared flat and started to develop ideas for their own enterprise.
The two entrepreneurs realised the growing popularity of "superfoods", mostly plant-based but also some fish and dairy thought to be nutritionally dense, but wanted to create something that was not only healthy but tasted great. The idea of a chocolate made using "superfoods" eventually emerged and 500 bars were sold among 20 independent retailers across London. Feedback was positive so they then approached a buyer at the Whole Foods Market, the natural foods supermarket chain, who offered constructive feedback in relation to issues such as their packaging.
To make the necessary refinements, the company raised £300,000 through the Crowdcube online investing platform. Orders then began to flow in from leading stores such as Sainsbury, Boots, Holland & Barrett and W H Smith.
The company has now produced more than 2 million bars in seven flavours ranging from Coconut & Lucuma to Date & Himalayan Pink Salt. "No nasties" is the phrase Rich uses to summarise a major feature running through their range, most especially the drive to offer "Free from" confectionary that has certain ingredients removed, such as wheat or gluten. This not only offers more choice for consumers suffering food intolerance or allergies but makes smart commercial sense as this food sector grows dramatically.
Doisy & Dam's care about their company's reputation extends beyond their "Free from" credentials to a wider corporate responsibility. Rich explained, "We want to create a working environment where everyone who works for us knows we are doing good for the world."  The company wants to ensure they can trace their cocoa through the supply chain back to the hectare of land it was grown in. Mindful of the "social imbalances" of the cocoa market, Rich and Ed want to own their own plantation in Colombia by 2020. This move aims to ensure the quality of the beans while also investing in the long-term prosperity of the farmers who should receive a fairer price while also benefiting from research, training and community funding courtesy of the company.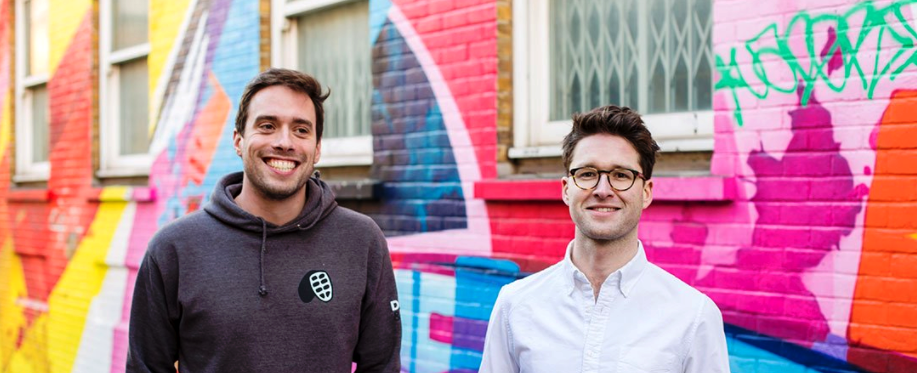 The environmental footprint of the innovative chocolatiers is a further feature of the company's approach to caring about the impact of their confectionary. "We want to be plastic free by the end of 2019." explained Rich whose bars are currently packaged using recyclable plastic and cardboard cartons that are not only renewable but are made using wood from forests that are managed responsibly. Eco-friendly and affordable packaging, however, must also be balanced against the requirement for the company to wrap and store a product that is fragile and also sensitive to temperature.
Caring for the five-strong team currently means nurturing a transparent and open culture with a work experience the company describes as "positive, impactful and fulfilling". By 2019, however, the forward-thinking founders also want to have every employee as a shareholder in the enterprise.
Rich's assertion that "Our treat is better" certainly applies to the amazing tastes of the Doisy & Dam chocolate range. This also, however, extends to their efforts to make an eco-friendly chocolate created through a truly sustainable approach to the business and the treatment of those working in their team right back through the supply chain to the cocoa farmers who provide their beans. Without question, such care makes solid business sense for an enterprise aiming to become a global chocolate company that succeeds thanks to strong community and commercial values.
www.doisyanddam.com